In recent years, the financial sector has undergone the same digital transition as other industries. Most individuals, for example, prefer to do their banking online rather than visiting a physical facility. The same can be said when it comes to looking for new investment products to add to your portfolio.
Businesses in the financial services vertical, like any other, rely heavily on lead generation. When it comes to developing content, up to 75% of financial marketers say lead generation is their main goal. As a result, it's more crucial than ever to have a good destination for all web traffic. Landing pages have a role in this. You can't begin to move a visitor through the sales funnel unless you can capture their information. People click on an advertisement because they want to learn more. If the landing page fails to persuade them to give you their information, they will simply click away. If your landing page isn't optimized for conversion, you'll get a lot of clicks but no leads.
In short, your marketing campaigns are only as good as the landing pages they send people to. So you'll need a landing page for a financial service or product that's optimized for conversions. While this may appear to be a difficult task, we've put together a list of seven best practices to help you make sure your landing page delivers.
Use Visuals
Our brains process images much quicker than information. The right visual hierarchy helps guide customers through the post-click experience. For example, bold headers capture attention, while the supporting graphics help visitors visualize the benefits. Plenty of white space between sections allow customers to focus on one thing at a time.
Use Clear and Compelling 'Call to Action'
You obviously want your visitors to take advantage of what you are offering, so it's crucial that you are making it as easy as possible totake that next step. Your CTA copy needs to be as compelling as the rest of your landing pages, and make sure your visitors will want to take action after reading it. Your CTA button should be easy to find and click, try to use a color that contrasts with other colors on the page. The page should also have 1:1 conversion ratio, meaning there is only one link you want your visitors to click. This will prevent visitors from getting distracted from other exit points.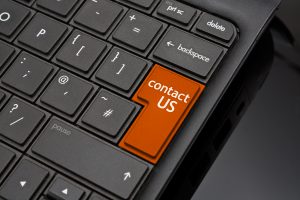 Stay Consistent in your Messaging
Effective marketing campaigns are going to perform their best when they deliver a consistent experience. If your ads are targeting a specific demographic with a specific need (ex: financial advisors interested in the tech sector), your landing page should also target that demographic and explicitly meet that need. They'll be more likely to convert if they find exactly what they're looking for when they arrive at your landing page.
Be sure to check our guide on how to create and optimize your content for maximum reach
Avoid Long Forms
Nobody likes paperwork. The same goes for long forms. Ask yourself: When it comes to filling out form fields, what are you willing to provide? Generally, the less information a visitor has to disclose the better so only capture the most important information. We suggest email addresses only.
Emphasize the Benefits/ Value of the offer
Readers care about the features of a product or service, but they care a lot more about how those features will help improve their lives (or portfolios). Always use benefit-lead messaging vs feature-led.
Optimize your Landing pages for Mobile
According to Statista, mobile phones account for about half of web traffic worldwide and only 50 percent of all landing pages are optimized for mobile. In this day and age, if your website is not optimized for mobile, you are going to lose a lot of potential customers. It is more important than ever before to have a landing page that loads quickly and looks just as good on mobile as it does on your laptop or desktop.
Optimize your page for Search Engines
If you want to get free, targeted traffic to your landing page, you must first optimize for search engines. To find a valuable target keyword, all you have to do is conduct keyword research. Then you can use this term to optimize your page copy.
It takes a lot of thought and practice to create high-converting landing pages. However, by following the landing page best practices outlined in this article, you'll be able to determine exactly which features you'll need to add in order to create high-converting landing pages for your financial services firm.