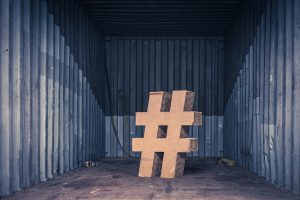 Hashtags can be very effective since they're one of the few ways for users who don't follow you to see your material. They can help with everything from company discovery, increased reach, adding context, promoting campaigns and they can have both immediate and long-term benefits. Hashtags can skyrocket your online presence to new heights, but if used too frequently or without a clear strategy in mind, they become pointless and inefficient.
Here are some pointers on how to plan your Instagram hashtag strategy.
Go for variety
There are a few main categories of hashtags: 
Location (#London, #exploreBC) 

Branded (#AbsolutVodka, #GotMilk, #NikeByYou)

Industry (#MakeupLovers, #cars)

Industry niche (#blackhairsalon, #germancars)

Instagram community (#dogsofinstagram, carsofinstagram)

Events and conferences (#expo2022, #formulaone2022)

Community (#arianators, #lakersnation)

Descriptive (#eyeshadow, #homedecor)

Product or Service (#hairsalon, #knitwear)
When you're just starting out, choose tags from all five categories for a well-rounded strategy that reaches many different groups of people. 
If you're still new to Social Media, be sure to check out our Profile Setup Guide here.
Get some #inspo
To see what hashtags are popular in your niche, check out what other accounts are doing. Once you've picked one or two relevant hashtags, look up the top posts that are already using them. 
Find the sweet spot
Look up each hashtag you're considering and see how many other people are already using it. Too few, and your post will barely get seen; too many, and you'll get lost in the noise. Select hashtags that are somewhere in the middle, with between 10k and 200k posts.
Bottom line: Consistency is key
Whether you use 10 or 30, a consistent hashtag strategy is still one of the most effective routes for growth on Instagram.