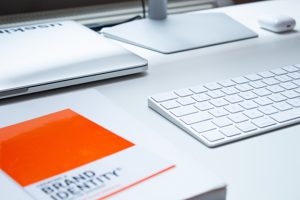 In the increasingly competitive ETF world, it has become more important than ever for asset managers to differentiate themselves, so their products stand out from the pack. Of course, high quality investment products go a long way towards helping your business succeed, but prospective investors may never bother to learn more about your ETFs on offer if your brand is bland, boring, incongruent with your messaging, or otherwise off-the-mark. With that in mind, what follows are 5 signs that it's time to rebrand your ETF firm:
Your brand fails to differentiate your firm from the competition.
Take a look around. Does your brand stand out from the crowd, or does it use the same staid, conservative, unevocative imagery as every other ETF issuer? Just because your brand exists in the financial world doesn't mean it has to be boring. Take a close look at your brand. Is it memorable? Clever? Interesting? Does it take risks? Is it fresh and inventive? If not, it may be time to consider rebranding.
Be sure to also read 2 Biggest Reasons Why Your ETF has Low AUM
Your brand name no longer reflects your company's vision and/or messaging
Business plans shift over time; it's a natural part of growth, and this sort of change isn't necessarily bad. But it's worth asking yourself whether your brand is still representative of the company mission you were envisioning when the company first got started. Perhaps you've moved into new business lines that may appear to conflict with the existing name or imagery of your brand. However it may have happened, it might be time to rebrand if your company's mission and focus have shifted out of alignment with your original brand.
You feel embarrassed when you hand out your business card or web address
If you wince apologetically when you're handing your card to a new business contact, it might be time for a rebrand. It should go without saying that you should be proud of your brand, as it is the outward-facing symbol of your company. If handing out your business card or web address inspires shame or embarrassment… it's time to seriously think about rebranding, or at least getting a facelift for your business cards and website.
You designed your brand yourself
Unless you're a professional designer, you have no business designing your company's logo yourself. A simple, rudimentary logo and/or brand that you doodled yourself may have been fine for the initial launch phase of your company, but now that things are up and running you should really think about upgrading your brand to reflect the heart and soul of your ETF firm. Consulting professionals simply means you have more time to focus on your core competencies: running your ETF business and growing AUM.
Bottom Line
What's in a brand? An awful lot. If your brand is not a proud representation of your company as a whole, it may be time to think seriously about rebranding. That way, it might not be so embarrassing to hand over your new-and-improved business cards the next time you're in a meeting.