Coming up with new solutions to old problems is not enough to keep up with the constant change and innovation in the financial services sector. Modernization and digitalization have guaranteed a promising future- one that is not too far removed from that of the whimsical futuristic world depicted in The Jetsons. In this industry, the promising tools yet to come can be considered a catalyst for better financial services: less waiting in line or on hold, holographic virtual assistants popping up to answer any questions about accounts and investments, and interactive charts and graphs that better visualize financial performance.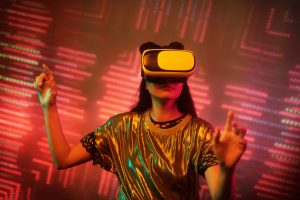 Virtual and augmented realities (VR & AR) are poised to bring back the intrinsic human element and boost the overall user experience- previously a core feature of the financial industry. While VR & AR cannot reinstate coffee and lollipops in the lobby or increase savings in the form of cash back or points from the purchases of everyday items, there are other innovative marketing opportunities in the not-so-distant future. These are our best (maybe aspirational, Jetsons-influenced) guesses for what the future holds:
For asset managers and service providers VR & AR will present an interactive and user-friendly environment or meeting place, where data is more interactive, consulting is more immersive and education is more personalized. Dare we even say, entertaining! Prototype AI agents in digital or holographic form will be standing at the ready to answer fund specific questions, conduct account consultations or mediate shareholder meetings. Digital bankers, wealth managers and active fund managers will be more accessible, and equipped with devices to illustrate charts or graphs that bring large swathes of data to life right in front of investors. In a VR or AR environment, the trading experience will be much more immersive and fun- where investors will be able to transfer funds and trade equities as if they were starring in their own video game. Instead of investor educational materials in the format of a 1,000-word brochure covering supply chains, for instance, the prospective investor can strap on their goggles and wander around the actual factories that represent the constituents of the fund! Continuous innovation in financial services meansmeans VR and AR applications are right around the corner. Spillover from artificial intelligence and machine learning has accelerated this change and will impact not only the user experience, but efficiency of the sector, for the better. Financial marketers with eyes locked on the future will gain the leading edge necessary to stay relevant in an increasingly crowded space— to aid in retaining and augmenting fund AUM. It's time to strap on our jet backpacks, enable our talking robots, and hop into our flying cars. Before we know it, we'll be on the cusp of the next technological revolution….à la Jetsons.