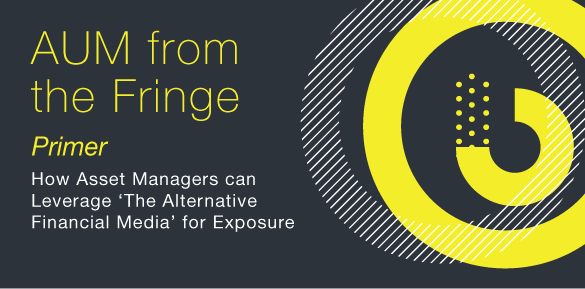 Financial media outlets are considered the crucial intermediary between companies, advisors and investors tasked with the responsibility to disseminate information. As media outlets worldwide have "gone digital", the number of financial media outlets and their ability to meaningfully impact capital allocation has grown exponentially. 
As a modern financial marketing and PR firm, our role offers a unique vantage point of emergent trends in financial media and we've got our eyes on how the 'Alternative Financial Media' is affecting the landscape. 
Asset managers should embrace the Alternative Financial Media to get their message in front of a new generation of investors who are increasingly looking to these outlets for actionable ideas.
The Novelty of the Alts
We define 'Alternative Financial Media' as mostly independent outlets untethered to the mainstream media that operate, syndicate and host their content on a variety of digital platforms and social media. These alternative outlets are increasingly important due to their expansive reach to new audiences of investors around the world.
In order to better understand the scope of these news outlets, we have  broken them down into three categories: social media, podcasts and video. Together, these mediums represent new and significant opportunities for asset managers.
The popularity of these outlets is most common in retail investing circles. Retail investing has been on the rise in the United States, and was further propelled by financial stimulus checks amid COVID-19 coupled with easy access to commission-free brokerages. Retail investors are more likely to invest based on their personal interests — and less likely to use traditional market data – making these outlets an enticing open forum.
Social media algorithms have disrupted the traditional role Editors played on these platforms by serving and sorting content in feeds based on recommendations, previous engagement and known preferences: videos watched, articles read, accounts followed, interactions, clicks, and even browser history.
Influencers can also play a big role here, as they can reach loyal audiences with more potential impact. Barstool Sports, founder Dave Portnoy, is the perfect example of this; he leveraged his personal brand to create buzz around an index for a product licensed by a prominent ETF issuer.
SOCIAL MEDIA
While the most popular social media platforms in our space include LinkedIn, Twitter, and StockTwits, we'd like to spotlight Reddit, the front page of the internet. Reddit has 3.4 million 'subreddits' or moderated forums dedicated to themes and topics. Reddit users (or Redditors) are known for their direct, casual banter
All contributions can be 'upvoted' or 'downvoted', resulting in a sorting mechanism with equal weights on discussion and content, ranking from most interesting to least in user's feeds. Redditors are unable to post on most subreddits until they have earned sufficient 'karma'— a numerical score based on upvotes given to their comments upvoted by other users.
Redditors are far less likely to engage with branded content. In fact, the most downvoted comment in history was made by a corporate account. A more effective way to market on the platform is to contribute meaningful content and interact with Redditors in relevant subreddits. 
Believe it or not, some of the most popular subreddits are finance-focused — from novel trading strategies to investment clubs geared toward specific equities — and serve as digital meeting places where investors can share trading strategies, publish due diligence and analysis, identify market opportunities and monitor investment activity, especially that of celebrities, corporate executives and elected officials.
Here are some popular subreddits:
r/WallStreetBets
Reddit's inclusion as a major source of finance-related discussion is due in part from notoriety generated by the rowdy 11.8 million active members of 'WallStreetsBets', the subreddit that served as the digital gathering spot for coordinated activity amid the GameStop and AMC short squeeze in January 2021. WallStreetBets is dedicated to retail investing and operates based on a Main Street versus Wall Street mantra. One of the most compelling contributions of WallStreetBets is its creation of a new (and sometimes vulgar) financial vernacular, coining the terms: 'Stonks', 'Apes', 'YOLOing', 'Diamond Holding', 'Tendies', etc.
Motto: Like 4chan found a Bloomberg terminal
r/PersonalFinance
As another one of Reddit's most popular pages, the 15.5 million users of r/PersonalFinance ask, debate and promote tips and tricks for budgeting, saving and investing. The most popular posts are archived in an extensive, proprietary resource center and available to the public. The immense popularity of the subreddit has inspired cloned finance pages dedicated to helping users in other regions around the world, such as r/EUPersonalFinance.
Motto: Get on top of your finances
Honorable Mentions: 
r/Bogleheads, a subreddit of 150,000 'lazy' investors discussing passive investing in broad market index funds and compounding returns, based on the strategy promoted by the site's unofficial mascot, the late John Bogle of Vanguard.
Motto: Active managers want your money- our advice: keep it!
r/FatFIRE, a page for its 300,000 users to share tips and tricks for those that are financially independent ("FI") and retire early ("RE").
Motto: Retire with a fat stash
PODCASTS
Available on: Spotify, Apple Music, Google Podcasts, SoundCloud and Audible
Podcasts are great for advertising new products, promoting your firm and more. Podcasts put an emphasis on the audio, enabling more focus on the issue at hand in a more comfortable, open, roundtable setting. Asset managers that appear on podcasts are more likely to attract buzz for products due to the loyal and niche audiences that dedicate anywhere from 3 minutes to an hour to listening to an episode.
Some of the most popular finance podcasts include:
OPTO

Sessions

, a podcast featuring interviews with fund managers, traders and executives to keep listeners up-to-date with innovations in finance.

Gaining Perspective

, a podcast for financial advisors by financial advisors that gives insights on the ways they can take grow their practices and deliver better services to their clients

The MoneyLife with Chuck Jaffe

is a daily financial talk show that features guests from around the world of finance about investing, handling, managing, planning and protecting assets.

Bloomberg's

The Tape

podcast is hosted by radio hosts Matt Miller and Paul Sweeney to cover all things Wall Street with guest analysis from Bloomberg's network of reporters, analysts and newsmakers.
VIDEO
Examples: YouTube, Vimeo, Benzinga, and TikTok
Investors, traders and market analysts are using video streaming sites to distribute content, revolutionizing audiovisual financial journalism. Investors are turning to these platforms for live and pre-recorded analyses of markets, earnings calls and conferences similar to traditional financial news stations– except on-demand and with more variety. 
Similar to podcasts, these platforms present significant opportunities for asset managers to appear as guests on live streams or create their own channels to showcase their investment research. 
A notable example of a popular outlet is Benzinga, which specializes in live pre- and post-market coverage of the stock market and around the clock action in the cryptocurrency space. Benzinga hosts up to five live streams per day on YouTube which are free to access and can be easily shared and uploaded on social media platforms.
Throughout 2021, TikTok surfaced onto the alternative financial media landscape. With over 1 billion users worldwide, TikTok has emerged as a platform for personal finance coaches, asset managers and even traditional outlets such as Yahoo! Finance.
Leveraging the Alts
In order to leverage the explosive growth here, asset managers are launching targeted marketing and public relations campaigns on these platforms;  thereby legitimizing the use of Alternative Financial Media as a noteworthy source of information. 
Love it or hate it, continued use of the Alternative Financial Media is here to stay and will further democratize access to financial information.
60% of retail investors are members of online investment communities

50% of all retail investors turn to social media for investing research 

31% of asset managers are active Reddit users 

21% of asset managers utilize TikTok for business purposes
Sources: Magnify Money & Putnam (2021)
At Arro, we are embracing the growth of the Alternative Financial Media by helping asset managers better extend their reach and disseminate their message through a growing catalog of services targeting social media, podcasts and video outlets.