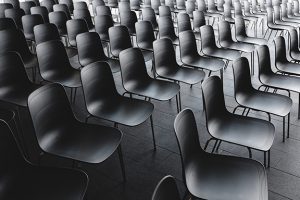 While there do appear to possibly be vaccines on the distant horizon for Covid-19, the prognosis for this year's in person conference season is unfortunately dim. Every year thousands of people throughout the asset management space rely on conferences as important opportunities to reconnect with clients and service providers, strengthen relationships, build out networks, and pitch to prospective new customers and business partners. This year, chances are good that if you're attending a conference at all, it's going to be a virtual one.
For many of us, attending a virtual conference may be something of a foray into uncharted territory. What follows are some key tips and tricks for navigating the virtual conference landscape in 2020 and beyond.
Be sure to also read our recent guide on Communicating in the Era of Social Distancing
No matter the format, content remains king
Whether it's fancy video productions, a handout, investor education materials, or even a whitepaper, the content—the actual ideas behind what you're communicating—will continue to play an outsize role in virtual conferences. When putting together your content, make sure you're structuring it using engaging handouts and presentations, thoughtfully outlined talking points, and leaning into your strengths as a presenter and communicator. As with in-person conferences, this will require some forethought, planning, and distillation to hone your message to be as effective as possible.
To put all this another way: don't be boring. Put yourself in your audience's shoes and imagine what they are looking to learn by interacting with your content—then deliver it clearly, succinctly, and in a beautifully-crafted package.
Prepare Your Space
Of course you'll want to dress up for a virtual conference to project professionalism, but a new wrinkle to the conference attendance checklist will be ensuring your space is up to snuff. Be sure the background of your room is attractively arranged and uncluttered, brightly lit and not distracting. Make sure other members of your household understand in advance that it's important for them to be quiet while you're interacting with fellow conferencegoers—the last thing you want is for a loud conversation from the other room to interrupt an important sales meeting or networking opportunity. If uninterrupted silence is not possible (if, for example you have young children), it might be necessary to find another space or make additional arrangements to ensure your "attendance area", wherever it is, doesn't distract people on the other end of the screen.
Prepare your gear
Unlike in real life, where all you have to do for a conference is show up dressed up and properly caffeinated, in a virtual conference you have to make sure your gear is up to the challenge too. This means testing ahead of time, ensuring that your audio and video set up are working well together. You can have the best content in the world and the tightest pitch in the industry, but if no one can see you or properly understand what you're saying, it's not going to matter. If you conclude your audiovisual equipment isn't of sufficiently high quality, it may be time to spring for a better webcam, microphone, and earbuds.
The bottom line
Virtual conferences are the new reality in what has become a year of "new normals." By prepping your space, prepping your equipment, and ensuring your content is of the highest possible quality, you'll stand a good chance of connecting with the people you need to and communicating the message you're looking to get across. Who knows? You might even forget the conference you're attending is virtual at all.