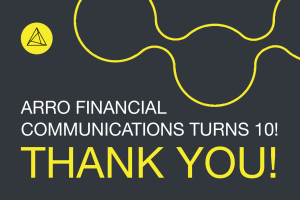 We launched our agency 10 years ago, as the ETF space was kicking butt and taking names, quickly surpassing other investment vehicles into the burgeoning XX trillion industry it is today. We've been blessed to grow alongside this very industry into a team of dedicated financial writers, PR professionals, graphic designers, digital marketers, coders and client relationship managers, serving clients all over the world.
If you had told me 10 years ago that we would still be here today, I'm not sure if I would have believed it. Hard work and best-in-class team aside, it takes ALOT for a company to survive past its early years. It takes a village.
So, thank you, Village, for helping us get to our Decennial Tin. We wouldn't be here without you.
Cheers to 10 more years,
Alex + The Arro Team
– – – – – – – – – – – – – – – – –
Please help us keep growing by voting for us for the upcoming ETF Express 2023 Awards for Best PR Firm. VOTE HERE